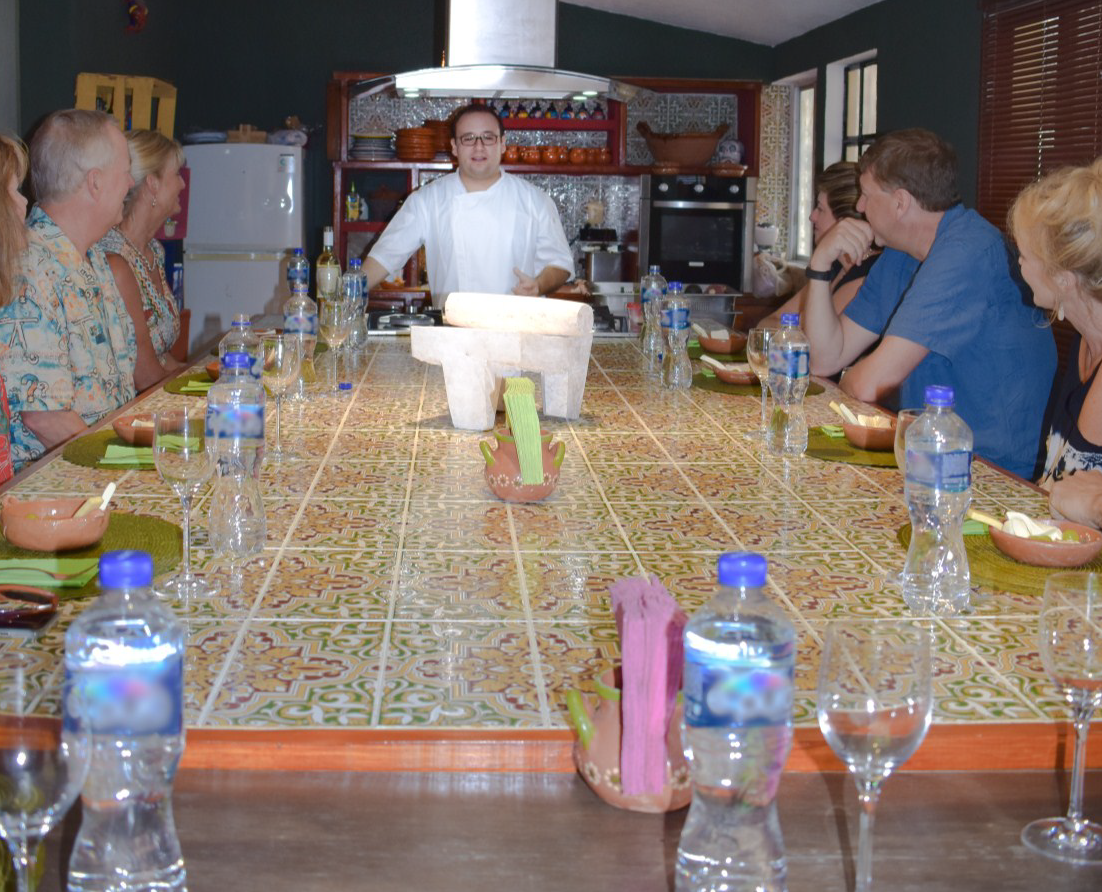 Cooking classes in Cancun or The Riviera Maya can be a lot of fun, especially if you go to one of the private chef's home where classes are typically held.
There are several chefs to choose from, and most of them will come to your villa and cook for your family and friends for an additional fee.
You can book these classes through Thomas More or you can go online and book them before you leave from home as they are very popular and fill up quickly. Most of the chefs cook traditional, authentic, contemporary and fusion type of Mexican cuisine from various regions of Mexico.
They will explain the history of the food, the different methods, both past and present, and how it is prepared. It is a hands-on cooking demonstration where all participants help in preparing of that day's menu.
So whether you or someone in your family wants to learn how to cook as true Mexicans do or if you or someone is planning a career in culinary cooking, you might just want to schedule a cooking class the next time you're in Cancun or along the Riviera Maya.
Authentic Mexican Cuisine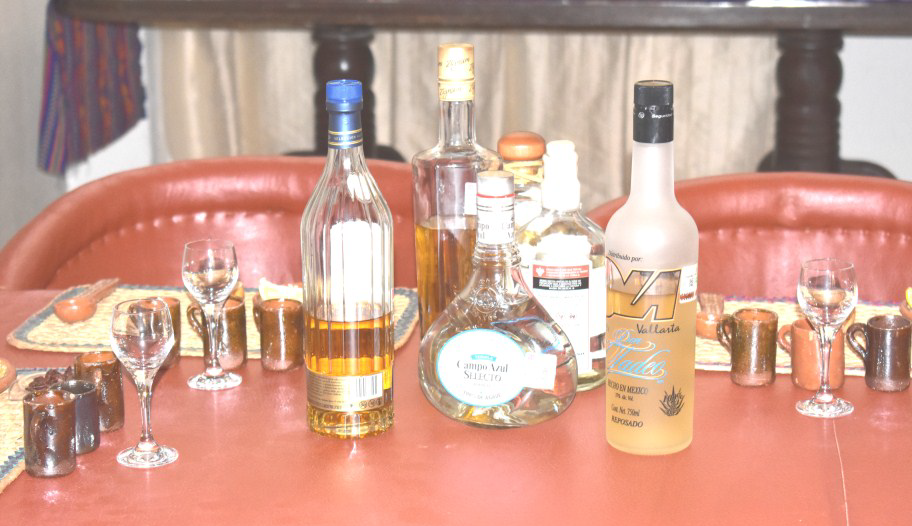 The history of authentic Mexican food is very diverse, depending on what region you are talking about. The Mayan Indians and Aztec empires, not to mention the numerous Meso-american groups that preceded them, had a lot of influence on Mexican cuisine.
The basic Mayan Indian food staples were corn and bean paste even though they also ate wild game, and fish. The Aztecs used Chile, squash, avocados, tomatoes, tomatillos, vanilla, agave, cactus, salt, honey and even chocolate in their cooking.
The Spanish Conquistadors, who invaded Mexico in 1521, brought their own food and spices from Europe which also had a lot of influence on the Mexican cuisine.
Some of these introduced foods were beef, pork, sheep, cheese, other dairy products, rice, herbs, wheat, onions, garlic, and spices. They also introduced the technique of frying in pork fat. Depending on what region of Mexico you are talking about, you will find that
the regional cuisine differs such as those in Northern or Southern Mexico, The Yucatan Peninsula, Oaxaca, Veracruz or a combination and blend of many cuisines such as found in Mexico City.
Even though rice was introduced by the Spanish, corn is the basic starch and is the base of many recipes in almost all areas of Mexico. The most common way to eat corn in Mexico is in the form of a tortilla but is used in other dishes such as the Tamale.
Corn is also used in pozol, a hominy soup which has one of the varieties of chile peppers as its base. Mexico is famous for their variety and many flavors of chile peppers and the reputation for being very spicy, even though not all peppers are spicy.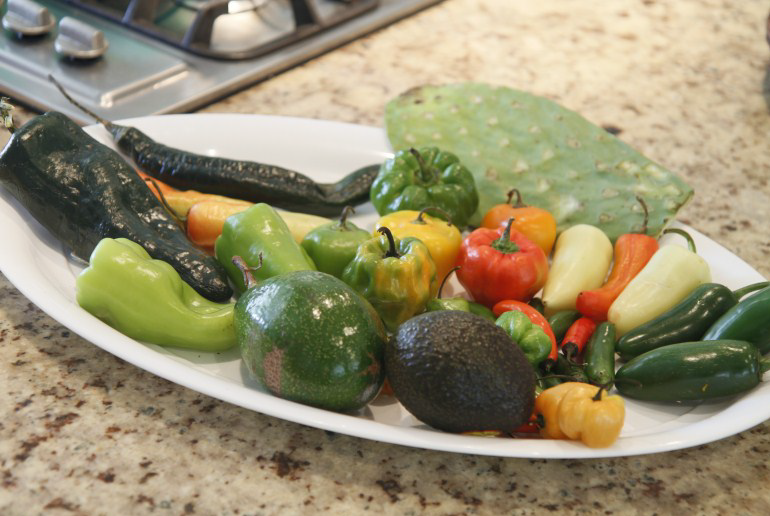 The Chile pepper goes back to the Meso-american period of Mexico and was just as much a staple food as corn and beans. Many sauces are created from using chile as their base.
Some believe that certain regions of Mexico were influenced by the African slave trade and the Manilla-Acapulco Galleons. During the 19th century, an influx of immigrants from the Caribbean, France, Germany, South America, Asia and other parts of the world had an influence on different cultural classes and in different parts of Mexico.
You may find some chefs do not recognize these later international influences to be a part of the true Mexican cuisine, but many professional chefs were trained in France or international cuisine. There is an interest in preserving what is authentic Mexican food out
Cooking classes, which are very popular, are typically limited to a certain number of guests. Reservations in advance are a must of fear that traditional Mexican cuisine will be lost with the increasing introduction of foreign techniques and foods. In 2010, UNESCO recognized Mexico's cuisine as an Intangible Cultural Heritage of Humanity.
Tex-Mex
Native Americans lived in what is now Texas before the Spanish Conquistadors arrived in the early 1500's. For three hundred years after that, Texas became part of the Spanish colony known as New Spain. In 1821, Mexico would become independent of Spain and in 1845 Texas became part of the United States. However, the native cuisine and its evolution continued in the region.
Tejanos, Texans of Mexican descent, who lived in New Spain fused or mixed various recipes from the Spanish and Mexican food culture. With time and a few historically noted people along the way, a unique food of its own would be developed and would become known as Tex-Mex cuisine.
The term "Tex-Mex" (without a hyphen) was the official published abbreviation of the Texas Mexican railway which began in 1875. By 1920, people began using the term "Tex-Mex" (with a hyphen) to describe people of Mexican descent living in Texas. Eventually, this label would apply to the region and its food.
In 1972, English author Diana Kennedy wrote a Mexican cookbook where she called Texas Mexican food unauthentic and referred it as Tex-Mex cuisine.
This categorization gave the cuisine its legitimacy in the U.S. and is now viewed as an American cuisine, originating from what used to be New Spain.
Tex-Mex cuisine uses heavy amounts of shredded cheese, pork, beef and chicken, beans, peppers and spices in addition to flour tortillas. Some of the dishes considered to be Tex-Mex are chili con carne, chili con queso, nachos, burritos, fajitas, cheese enchiladas, and hard-shell tacos. The use of sour cream and cheese became another often used component of Tex-Mex cuisine along with the serving of rice and beans as a regular side dish.
Authentic Mexican cuisine never use premixed spices such as the famous chili powder that are often used in Tex-Mex food preparation.
Cooking Classes
The cooking classes in Cancun, Playa del Carmen, and Puerto Morelos offer authentic, traditional, and contemporary cuisine. All cooking classes are a hands-on approach, where everyone in your group can do some of the actual work in preparing the dishes; one that everyone will eat after the class is over.
All have a minimum (usually six) and maximum number of guests (around twelve) and will begin the classes with tequila and wine tasting, unless it's a morning session.
You can usually pick how long of a cooking class you want, three or four hours. Some chefs will hold a morning session beginning around 9:30 a.m. or 10a.m. and others an afternoon session beginning around 3:30 or 4:00 p.m. You can also call the chefs direct and possibly get an evening session beginning around 5:00 or 6:00 p.m.
Prices vary among Chefs, depending on the number of course meals you sign up for, but most of them average around $115 to $130 U.S. per person for a four-course meal and approximately $105 for a three-course meal. Transportation is not usually provided but they can assist you with that if necessary.
High end Tequila brands are used during the Tequila tasting and history lesson part of the class. Fresh vegetables and ingredients and how to cut them up are usually taught in the class. Chef Andres explains to the class how to prepare a sauce.
Chef Ale, near Puerto Morelos, offers an all day, seven course meal at her home in the jungle and includes transportation and costs around $180 per person. She does offer a half day course for much less.
The chefs hold their classes in their home and usually have an assistant which may be their spouse or a close associate. Both will go out their way to make you feel at home and answer any questions you may have throughout the class.
All the chefs design their cooking classes around different menus on different days, usually never the same. If you are a vegetarian, require a special diet, or have any preferences as to the menu, the chefs will work with you and your group. Menus are also designed around the local seasons where some items are more plentiful.
CANCUN
Chef Andres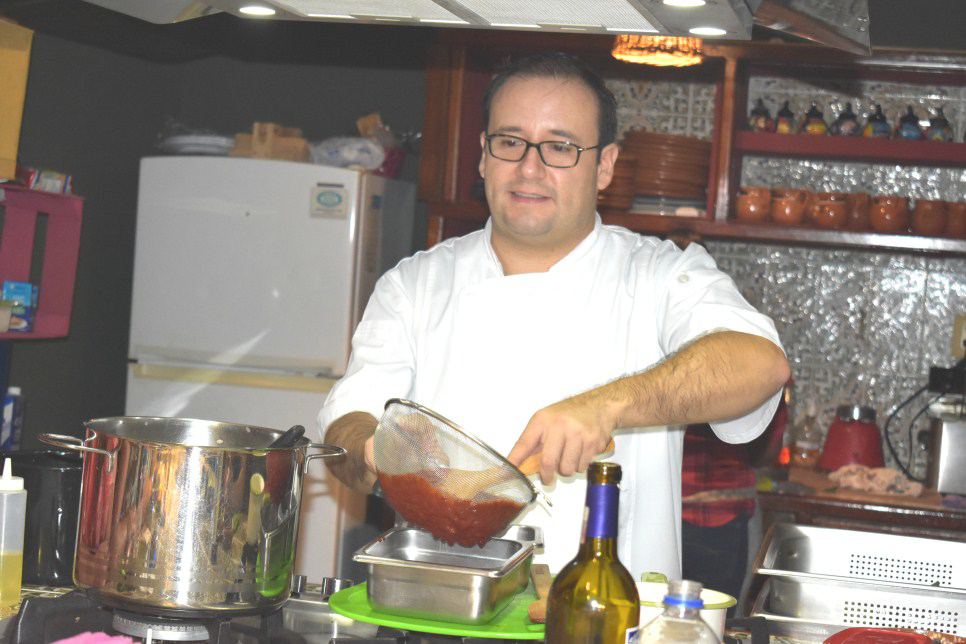 Chef Andres was born in Mexico City and graduated from Le Cordon Bleu College of Culinary Arts in
Mexico City. This famous French college has campuses all over the world. He has fifteen years of experience in Mexico City and Cancun.
He worked as a sous chef for the Anderson Group at different hotels and restaurants. He was the chef at Le Cirque Restaurant in Mexico City as well as spending some time in Las Vegas. Chef Andres also worked eleven years with the Ritz Carlton hotel company.
We took a privately arranged evening class at Chef Andres' house, where his normal classes are held.
We were greeted by his associate chef, Jose Luis who guided us through different cheese and appetizer items as we sipped different types of wine. Then we tasted a few different types of tequila and Mezcal along with a history lesson.
Chef Andres then took us through the making of guacamole with several in our group taking turns grinding up the onions, garlic, and cilantro in a stone pestle and mortar. Our program was a five-course meal, including the wine & cheese, guacamole, soup, steaks with some vegetables, and a desert.
If you choose a morning session with Chef Andres, eat a very light breakfast or omit breakfast all together as you will be greeted with a hot Mexican beverage (coffee if you prefer), some Mexican pastries and a fruit platter.
You can reach Chef Andres at yumcancun@hotmail.com or 52 (998) 1689224. His website is www.yumcancun.com where you can book reservations or contact them with questions via email.
Chef Claudia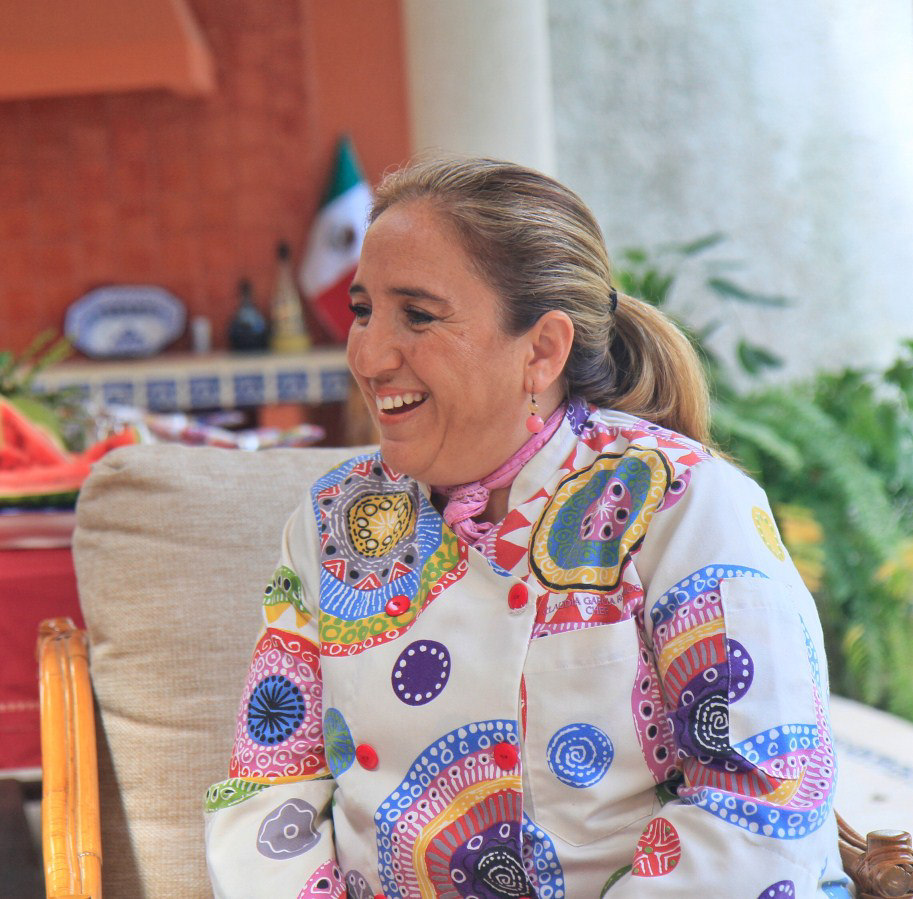 Chef Claudia Garcia was born in Mexico City and comes from a very large family where food preparation for so many was a big thing. She started formal cooking lessons when she was 14 years old, learning to cook authentic traditional Mexican cuisine from different regions of Mexico. She eventually learned how to cook Italian and Japanese cuisine.
She graduated from The Culinary Institute of America at The Anahuac University in Mexico City and continued her education at their university in Hyde Park, New York.
She received her diplomas in Mediterranean Cuisine, Desserts, Bakery, and Catering. She operated a catering business in Mexico City for a while until she moved to Cancun in 2005.
Chef Claudia came to specialize in Central, North, along the Coast, and Southeast Mexican Cuisine as well as Mexican contemporary cuisine. With twenty-five years of experience, she has written food articles for several food and lifestyle magazines. She has been holding cooking classes for the past fifteen years through her "Can Cook in Cancun" classes with her husband, Lorenzo.
Depending on which day you typically get to choose which type of meal you would like to prepare and enjoy after the class.
Chef Claudia has over twenty-five years of experience. Choose, and because she typically only holds cooking classes on Wednesday and Thursday (She can have a class any day of the week if she has six people), it's best to book early, possibly before you leave from home.
Claudia will first have a get to know one another on her balcony and later will teach you about the local ingredients, flavors, traditions, and food preparation. Many of the dishes you will learn to cook come from her own family recipes.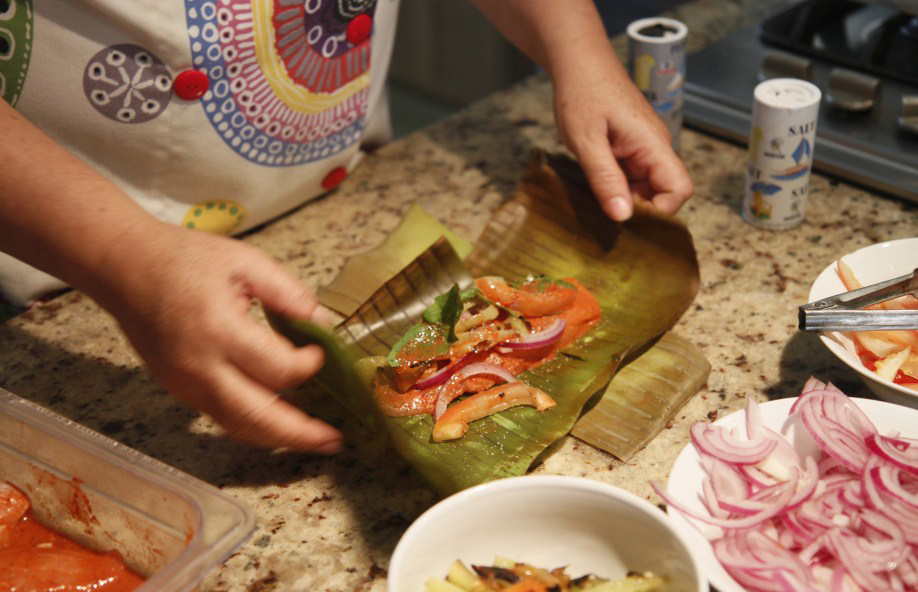 You will not only learn to cook but will help in the preparation of everything from fresh handmade tortillas, sauces and guacamole using a pestle and mortar to grind up all the ingredients, to the main course and dessert. After the class is over, you will sit down with Chef Claudia and her husband to enjoy what you have prepared and talk about the food and Mexico.
Chef Cladia can be reached via email at info@cancookincancun.com or go to their website www.cancookincancun.com. Claudia's cell phone number is +52 (998) 1474827 and her husband Lorenzo is +52 (998) 8741175
PLAYA DEL CARMEN
Chef Alexandra
Chef Alexandra Iserte offers cooking lessons through their company Food Motion, located in downtown Playa del Carmen. She not only offers cooking classes but can provide you with a private chef or meals prepared in advance for you to pick up.
Chef Alexandra was born in Mexico City and studied at the Ambrosia Culinary Center and continued her training at the Coronado Springs Resort in Orlando, Florida.
She got a scholarship to study Food Styling at The Culinary Institute of America and afterwards returned to Cancun where she worked as a Catering Manager at the Taller Gourmet. There she served the Professional Golf Association at Mayakoba and subsequently at the Grand Velas hotel in Riviera Maya.
In 2010, she opened the Food Motion Workshop in downtown Playa del Carmen, where she now teaches several classes a week. She also offers Private Chef Services in Playa del Carmen, Cancun, Puerto Morelos, Isla Mujeres, Tulum, and Cozumel.
Chef Alexandra will come to your villa and use your kitchen to give you a private one-on-one and/or with your family, four course cooking lesson. You can choose many different items to prepare from a very diverse menu and some items you may not even thought of.
She and you will prepare delicious salsas like Pumpkin seed salsa dip or Pico de Gallo, soups that are out of this world, tuna and other ceviche's, Chi-Mole marinated, butter and oregano Pork Loin, and deserts like mango cheesecake. You can go on their website and see a small sampling of the different menu items you may want to try.
Chef Alexandra is young, energetic, fun, and very comfortable to be with and will provide you with a lot of information about the ingredients you will use. Just about everyone who either takes her course or hires her for a private cooking lesson, raves about her. They all find the recipes are easily duplicated back at home.
If you prefer, her chefs can cook several meals, pack and label them with reheating instructions so you can put them in your refrigerator or freezer and enjoy them whenever you want.
Their chefs will discuss with you your specific dietary needs and create a menu with you that will fit your taste profile. If you want, they can also prepare hors d'ouvers or snacks.
Chef Alexandra can be reached at aleiserte@foodmotionmexico.com or
Various cheeses and other Mexican appetizers are served before the classes. Hands on preparation is part of all the classes. In conjunction with preparing a meal. This course is offered on Tuesday afternoons or Thursday morning.
If you're in the mood for taking a mixology course, a three cocktail and three appetizers course is offered on Friday evenings. If the three-hour course is not enough, you can stay longer with them to enjoy more spirits and appetizers. Your family and friends are also invited to come at the end of the class to enjoy the food and drinks you have prepared.
Chef Coty can be reached at info@cookinplaya.com or their website www.cookinplaya.com or at 52 – (998) 1098897
PUERTO MORELOS

The Little Mexican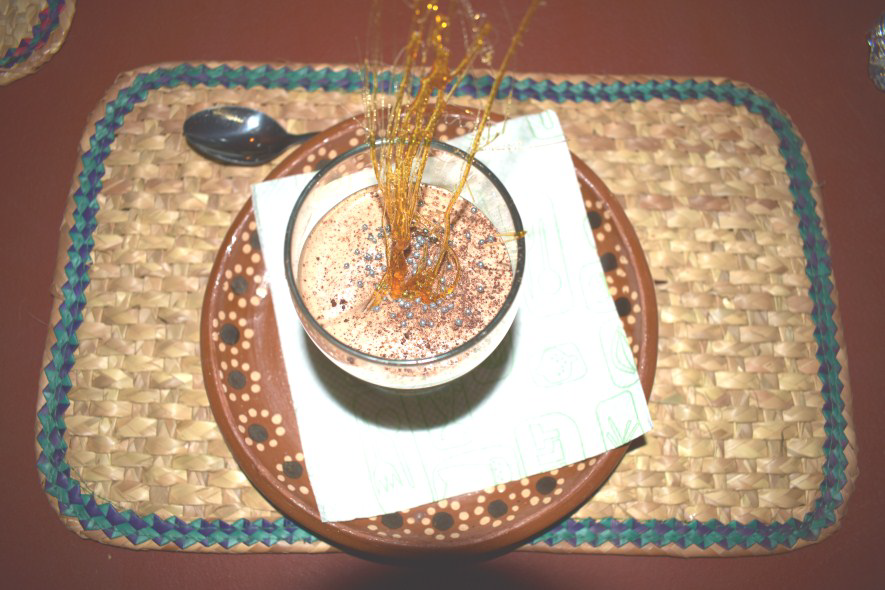 Cooking School
Catriona Brown, born in Sydney Australia, traveled the world to over 43 countries and 143 cities. In 2002, Cat as she is known in Puerto Morelos, brought the Little Mexican Cooking School to life. Located in Casa Caribe, a bed and breakfast in the heart of Puerto Morelos, several well-known chefs come to teach at the school.
The Little Mexican Cooking School prides itself on teaching authentic and even modern-day Mexican cuisine. Currently the main chef at The Little Mexican Cooking School is Chef Cristobal Tamariz but several guest chefs from time to time will come in to teach the class.
Chef Cristobal divides Mexico into seven different gastronomic regions and usually gives you a history and presentation of one or more dishes from each region.
You may want to inquire while making your reservations, which chef and what type of food will he or she be preparing that day. If they are overbooked, Chef Claudia from Cancun will step in and offer a class at her house.
The class offers a light breakfast and a full hearty lunch complete with festive drinks. The traditions of the food and drink that you will be preparing will be explained to you. Classes are typically held from 10:00 a.m. to 3:30 p.m. on Tuesday through Friday and sometimes on Saturday.
Your day will begin with some pastries and Mexican coffee. Then you will be given an overview of authen at foodmotion@gmail.com or you can call her at 52 1 (984) 1519667
Chef Coty
Chef Coty through her Cocina Cosmopolitan or otherwise known as Co, cos. offer cooking lessons for not only a three-course meal, but you can sign up for a one-hour course or a cocktail and appetizer course. If your partner doesn't want to learn to cook, you can pay a small separate fee and you cook for him or her.
Chef Coty's journey began as she took cooking lessons in Mexico and in France and eventually cooking for an Italian restaurant in Monterrey, Mexico. She worked in the corporate world in Los Angeles, California and Buenos Aires but found she missed the culinary world.
Chef Coty then went on to Germany teaching Spanish for eight years as well as traveling to many other parts of the world. She took private cooking lessons in Thailand where she really fell in love with Asian cuisine.
Co. Cos culinary School and Catering began in Monterey, Mexico in 2009 but was soon moved to Playa del Carmen where Chef Coty teaches cooking lessons with a focus on Thai cuisine as well as integrating Asian and European fusion type cuisine. She also teaches traditional and contemporary Mexican cuisine.
The three-course meal is a five-hour hands on cooking held on Monday and Wednesday afternoons and Friday mornings. You will learn about a variety of fresh and dried chili along with Traditional Mexican ingredients. You will also a have a course on Tequila and Mezcal.
The one course meal or two appetizers is a three hour, hands on approach to preparing a simple "work week" meal. You still get a crash course on fresh versus dried chilies as well as a tequila and Mezcal tasting
The deserts were made before the class since it required refrigeration for a few hours, but the chef did go through the recipe. Mexican ingredients and an introduction to true authentic Mexican cuisine. You will prepare seven to eight dishes as well as some authentic Mexican drinks.
After you have prepared and cooked that day's menu, you will enjoy what you have prepared. There are currently seven different menus, each representing one of the seven different culinary regions of Mexico. If one of these menus don't appeal to you or you have dietary restrictions, they are eager to accommodate you.
After you have eaten your late lunch, and before you leave, you will be given a recipe booklet of the dishes taught that day so that you can prepare them when you return home.
The chefs at Casa Caribe also have a great knowledge of the various restaurants and the dishes that they are famous for in Puerto Morelos. They can help guide you through a wonderful gastronomical adventure during your stay.
You can reach them at info@thelittlemexicancookingschool.com or Catriona Brown at catbrown@gmail.com. Their website is www.thelittlemexicancookingschool.com or you can reach them at +52 –
(998) 2518060 and their U.S. number which rings in Puerto Morelos is 1(512) 4108146.
Chef Ale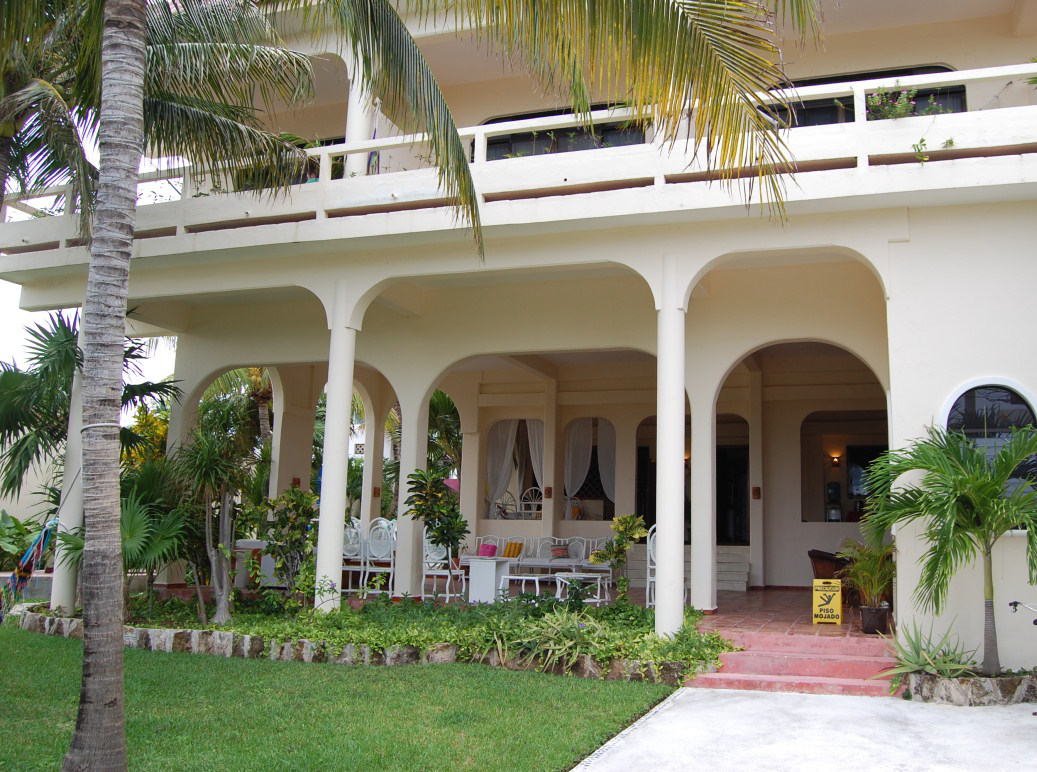 Chef Alejandra Kauachi or Chef Ale as she likes to be called is passionate about her cooking and is dedicated to share the traditions and flavors of her ancestors. She grew up in a family of Mexican and Lebanese cooks and chose a profession in the culinary arts.
She teaches at The Mexico Lindo Cooking School just outside of Puerto Morelos. The house is in a nonpopulated area, with numerous trees and brush (ecological corridor) on the Ruta de los Cenotes highway.
She has a large organic garden and green house where she takes her herbs and vegetables from. You will get a private tour of her garden and tips when it comes to fresh picked herbs and spices.
Her house is a vibrant yellow with a bright pink kitchen. Breakfast and lunch are served on her Mayan terrace overlooking the jungle. It really gives you a different perspective than other classes held in the various cities.
They will either provide transportation from your hotel to her house or decide for you to get there and is included in the price between Cancun and Playa del Carmen. Her breakfast will include fresh ground Mexican chocolate, a coffee out of this world and possibly vanilla seashell buns and other pastries as well as some fruit and fruit juices.
One thing that will stand out is Chef Ale's soux chefs and helpers, Claudia and Palla whom are of Mayan descent. You can be assured the dishes you will be preparing, and cooking are very authentic Mexican and not some type of fusion or contemporary Mexican cuisine. Drinks and snacks are served throughout the day while you are cooking.
Chef Ale will teach you certain knife skills, proper techniques for cutting onions and other vegetables as well as other kitchen basics. With a history of the foods that you will be preparing that day, you will begin preparing fresh tortillas different ways and other dishes that you will later be eating after the classes are over.
Because Chef Ale is so much fun, most people hit it off with her right of way and really feel like they are at a friend's house. The full day allows you to get more deeply involved into the dishes you are preparing and enjoy a seven-course meal. Most courses will last six to seven hours but you can take a half day option if you prefer.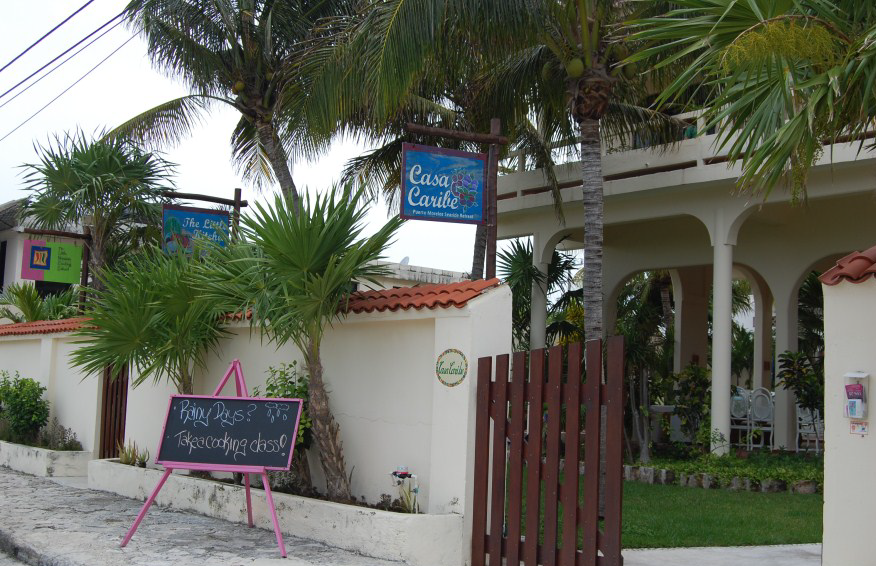 You can contact Chef Ale and The Mexico Lindo Cooking School at info@mexicolindocooking.com or USA toll free 1 (844) 8461727 or 52 (998) 8024388 or go to their website www.mexicolindocooking.com
If one of your sons, daughters, or friends of the family are thinking of a career in culinary cooking, they should really take one of these cooking classes schools.
You can also rent a room at The Little Mexican Cooking School in Puerto Morelos which is held in the same house.