Mandatory Covid Testing for all air bound to the United States
            The CDC has created a stop measure to halt the introduction of variant Coronavirus strands from entering the US. As of January 26, 2021, each inbound air passenger to the US must be tested within 3 days before departure and recommends being tested again 3-5 days after arrival in the United States and stay home for seven days.
            The Royal Resorts will make tests available on site and at special rates for owners and guests starting January 23. International travelers and U.S. citizens will need to have a COVID-19 test within 72 hours prior to their departure from Cancun and present documentation of their laboratory test result (written or electronic copy) to your airline at the airport.
            The test required is a nasal swab (viral antigen test or nucleic acid amplification test). Children aged two and older must be tested. Travelers who have been infected with COVID-19 and have recovered during the last three months must show proof of the positive test result and documentation of recovery from a licensed healthcare provider giving them clearance to travel.
            COVID-19 antigen and PCR tests will be available at Royal Resorts starting on January 23. Independent and authorized medical personnel will be carrying out the antigen nasal swab test in the Gran Salon Sisal next to Hacienda Sisal Restaurant. The test is available Monday tthrough Saturday, 8 a.m. to 4 p.m. The cost is approximately $35.00 ($700 pesos) per person if paid with Visa, Mastercard or American Express and test results will be ready within 24 hours. PCR tests will also be available for a cost of $100 US per person. Please note that the aforementioned prices are exclusively for Royal Resorts members and guests and that tests will be performed as long as they are asymptomatic.
            Guests showing symptoms must remain in their villa or room and follow the doctor's instructions. You will be able to make your test appointment before your arrival; Gran Salón Sisal was selected as the COVID test center because it has sufficient space for members and guests to wait in comfort and with social distancing measures. If you are staying at The Royal Haciendas, the antigen nasal swab test will be available at your resort and costs $50.00 US ($1,000 pesos), results available within 24 hours. At the Royal Haciendas the cost of the PCR test is approximately $150.00 US ($2,648 pesos) and results are ready in 24 hours. Personnel from Laclicsa laboratory will carry out tests at the resort.
            There are other details for travelers. For full information, visit the CDC website. https://www.cdc.gov/quarantine/fr-proof-negative-test.html Requirement for Proof of Negative COVID-19 Test or Recovery from COVID-19 for all air passengers arriving in the United States: https://www.cdc.gov/coronavirus/2019-ncov/travelers/testing-international-air-travelers.html
            Travelers bound for Canada who receive a negative test result and are authorized to enter Canada must still complete the full, mandatory 14-day quarantine. In the case of the United Kingdom, all inbound passengers must fill in a passenger locator form and self-isolate for 10 days regardless of the test result.
            Canada and the UK now require all inbound travelers to show documentation of a negative laboratory test result to the airline prior to boarding their flight. The test must be performed using a COVID-19 molecular polymerase chain reaction test (PCR test) within 72 hours of their scheduled departure to Canada or the United Kingdom.
            Airlines will confirm the negative test result for all passengers before they board. Per the CDC, "If a passenger does not provide documentation of a negative test or recovery, or chooses not to take a test, the airline must deny boarding to the passenger."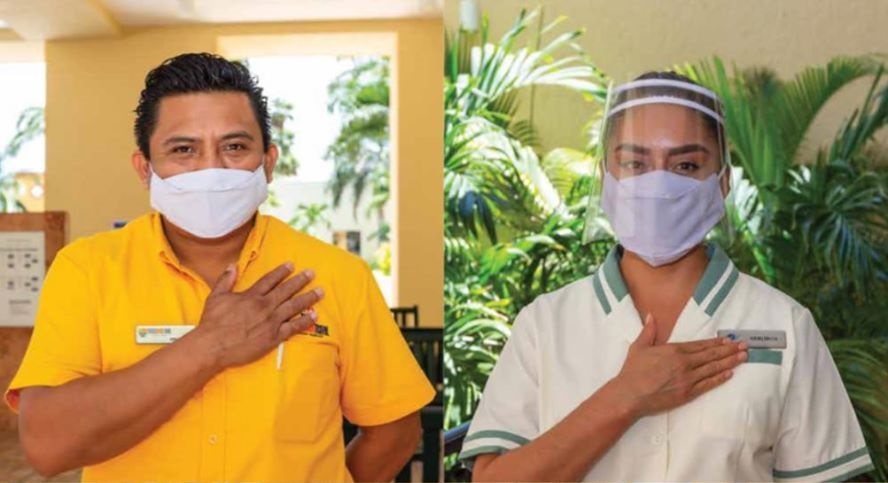 Infections Rates Rise in Cancun and Playa del Carmen Residential Zones
            As of January 13, Cancun and Playa del Carmen each have reached their highest point of Coronavirus cases. This peak seems to stem from the December holidays, normally the busiest time of year for Quintana Roo.
Hospitality Industry and Covid Vaccination
            Quintana Roo State Governor, Joaquín González, will look at the possibility of allowing hospitality workers to be in the first groups to receive vaccines. The first batch is set to arrive on January 11, at two different locations, Cancun International and Chetumal International. Though all initial vaccine batches in the country are earmarked for the healthcare sector, he will work to make sure the hospitality industry workers are a priority. The Hotel Zone Association of Cancun, Puerto Morelos, and Isla Mujers have contacted AstraZeneca and Pfizer for the purchase of 500,000 Covid-19 vaccines.
Starting Jan 1 Consumer goods taxes to increase
            As of January 1, 2021, specific consumer goods will increase taxes by 3.3%. It is an annual adjustment per article 17-A of the Federal Tax Code on tobacco, automotive fuels, and flavored beverages.
Nichupté Vehicular Bridge Gets Green Light
            A bridge between the mainland and Cancun's Hotel Zone gets the green light. Government officials clarify the bridge's investment and operating costs will be mostly assumed by the private sector, in exchange for a consideration that the state will pay over time. 
The Nichupté bridge would be an 8.6 km connection between downtown Cancun and the Hotel Zone. This new connection will provide an evacuation solution in case of emergencies and disasters, as well as save significant travel time and cost. With the plan and financials finalized, the next stage is to open the project to international bidding. The winning bidder will construct, operate, and maintain the bridge for a period of 30 years.
Cozumel Ferries get an additional ferry boat
            Cozumel's mayor held a meeting with the two Cozumel ferry service companies, Ultamar and Winjet. For the past, several months there have been many problematic issues regarding the health protection of both locals and visitors. Passengers being stranded or standing around due to peak hours and only 75% capacity being allowed, high concentration of people at the Navega dock, and the reinforcement of health protocols during and after crossing were issues specifically addressed. Both companies agreed to add extra boats for use during the peak hours, to coordinate with each other and the authorities to reduce the amount of people at the dock, and verify the use of face masks, application of hand sanitizer, and social distancing protocols.
Maya Train
            There are nineteen expected stations/stops, including Mérida, Chichen Itzá, Cancún downtown, Cancún International Airport, Puerto Morelos, Playa del Carmen, Tulum, Chetumal, and others. It will provide cargo and passenger services at 99 mph for passengers. The busiest route, Cancun-Tulum, intends to run from six in the morning till eleven at night with departures every hour. Included in the planning, Grupo Xcaret, will have a station to help flow more tourists into the area with ease and mobility.