Throwback Thursday! Here is an article we wrote in our July-September 2018 newsletter.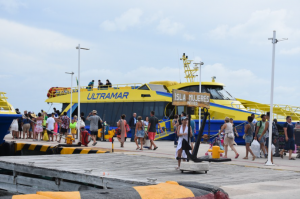 Isla Mujeres, once a side-trip destination, is fast becoming a major destination. Tourists are going directly from the airport to a hotel of their choice on the island and spending several days. Island life is laid back and has one of the best beaches in the world.
There is a proposal to construct a cruise ship dock on Isla Mujeres which has been in the works for the past two years. The director of the Port Authority of Quitana Roo (Apiqroo) is in favor of a new route in the Mexican Caribbean.
The idea has attracted some investors and they are working on an economic feasibility analysis and an environmental study on a new cruise dock. It is believed the project is at least three years away from implementation if approved and investors can be found to fund the project.
The Mayans harvested salt from the salt mines in lagoons, Salina Grande and Salina Chica, and used Isla as a base for fishing. These commodities were important in Mayan commerce, especially salt which was used for food preparation and preservation, as well as in their medicines.
Local Mayan girls would have to make a pilgrimage to Isla as part of their passage from a girl to a woman. Many statues of half-naked women were left on the island and in 1517 one of the Spanish conquerors, Francisco Hernandez Cordova, discovered the island. He noticed the statues and then fittingly called it Isla Mujeres.
The Mayans consecrated the island to Ixchel, the Mayan goddess of
fertility, love, and medicine. On the south side of the island, the Mayan temple, which still exists today, was a sanctuary for the Mayan goddess, Ixchel.
Pirates Henry Morgan and Jean Lafitte frequently used the island as a hideaway and, it has been said, pirates would leave their women there for safekeeping while they were out on the high seas.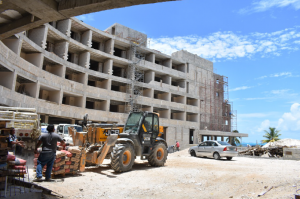 Fermin Mundaca, who sold captured Mayan slaves in Cuba, settled on Isla Mujeres in 1867, built a large plantation which took up over 40% of the island. He called it Vista Alegre (Happy Vista) and grew fruits, plants, and vegetables.
If you haven't been to Isla Mujeres in quite a while, it's still worthy of a day trip. It is estimated that 4.5 million people cross over from the mainland to Isla Mujeres annually.
Some will take a catamaran trip to the Island (haven't had a lot of good reviews); some will take a snorkeling trip, and others will go to Dolphin Discovery and explore the island after their swim with the dolphins.
You can also opt to take the relaxing mode and head over to North Beach, rent an umbrella and some chairs and just spend most of the day on the beach. You will have a waiter to bring you drinks. Shopping the many tourist shops and restaurants are not far.
Ferries to La Isla
One of the best ways to really get to know La Isla, as the locals call it, is to take the speed ferry Ultra Mar from Playa Tortuga, which is closest to the resort. It will take about 45 minutes but you will be entertained on the way there and back, probably by a singer, or a saxophone player.
The ferries leave every hour on the hour from 9:00 a.m. till 5:00 p.m. and return to Playa Tortuga every hour on the half-hour from 9:30 a.m. until 5:30 p.m. A round trip cost is $19 for adults and $12 for children.
If you want to leave earlier or stay longer, go to the Puerto Juarez ferry, which is further than Playa Tortuga. It leaves every half-hour from 5:00 a.m. to 8:30 p.m. and the ride only takes 15 minutes.
They return every half-hour from 5:30 a.m. till 9:00 p.m. and then on the hour, 10:00 pm, 11:00 pm. and
New hotel construction is increasing as Isla Mujeres becomes a major vacation destination.
Ultramar is the main provider of continuous fast ferry service to and from Isla Mujeres. Check their website, ultramarferry.com to see if there are any changes before you leave.
Other ports that Ultramar leaves out of for Isla Mujeres are Embarcadero, Playa Caracol, and Punta Sam. If you are coming straight from the airport, it is recommended to take a preserved airport shuttle to Puerto Juarez.
Both shared shuttles and private shuttles exist to take you, your family, and guests there and then back to the resort if you want to spend a few days before or after your week.
If you want to leave from one port and return to another, you will have to buy two one way tickets which costs a little more for the round trip. You can buy your tickets before you get on the boat and if you forget your hat, sun glasses or suntan lotion, you can buy them at the OXXO store at Playa Tortuga.
What to bring and how to dress is always a question until you've been there. It's a matter of preference, but flip flops and wearing a bathing suit with a shirt or a pull-over dress for the ladies will suffice.
When you get off the ferry, rent a golf cart, motorcycle, or scooter and set out with a plan to explore the things that interest you. If you come with a large group, set up a meeting
place (such as North Beach or lunch at Playa Lancheros) as not everyone is going to want to see or do the same thing or at the same pace.
Dolphin Discovery
You can arrive without notice and pay to swim with the dolphins on space availability, which usually is not an issue putting you with one of the many groups that are in a program.
There are several different encounters with the dolphins, depending on how interactive you want to be and the amount of money you are willing to pay.
You can use their lockers, kayak, snorkel, and there is a restaurant if you would like to snack. It's also fun to watch the dolphins. They do have a sandy area where you can sunbathe, but there is no real way down to get into the Caribbean sea unless you are actually swimming with the dolphins.
Whichever program you choose, it will take several hours to complete. If you don't want to wait around for your friends or family, get an estimated time to return to pick them up. There is a turtle farm nearby, and the Ice bar, where you can go to have a drink while you wait.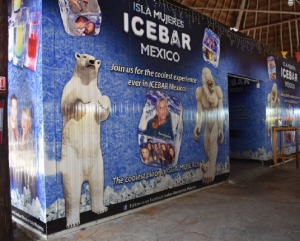 The Ice Bar
There are Ice bars all over the world, and this one is a relatively new attraction having been opened for three years. It's an average size room where everything is made of ice, the bar, the benches, the drink and shot glasses you drink out of.
The temperature inside is a -35 degrees F. (-18 degrees C.) but they do give you a large, thick, thermal poncho to go over your bathing suit or shorts so you won't freeze on the inside. Music inside is from the 80's and 90's. Some groups have a little informal competition who can stay in for the longest.
The charge is around $15 U.S. and gets you two drinks and a shot of your choice. If you're too cold, you can use your drink coupons outside where there is a restaurant. There is another more expensive option that includes access to the beach, four hours open bar, and a lunch buffet.
There is not a lot of seats to go around inside the ice bar, so expect to be standing while inside. They ask you not to take photos as they will sell you a photo of you and your group but you can snap a photo using your smartphone.
There is a good chance they will take a photo with your smart phone. They are open seven days a week from 9:30 am till 7:00 pm.
The Ice Bar is one of those experiences that is worth it if you are in a group.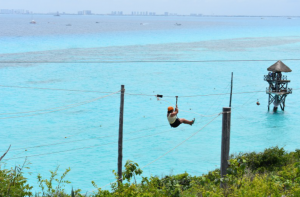 Garrafon Park
Garrafon Park has been around for a long time and is almost an all-day affair. The entrance fee may not be worth to visit for just an hour or two, unless you want to spend some time there as well as eat there and do some zip lining over the water.
There are several packages that include snorkeling, kayaking, an out of this world zip line that is over the water, a shallow pool, a seaside walking path, restaurants, boutiques, a hammock garden, and many other places to rest and relax. The full package at Garrafon Park includes lunch as well as transportation.

It's hard to know when to leave and you may just want to chill out here for the rest of the day. All of the amenities one needs to be comfortable are located within the eco-park. You will also be able to scuba dive at Garrafon and the Manchones Reef just past the national Garrafon Park area. The area is known for its gentle currents and shallow water depth; it is a great place to scuba dive for your first time.

Ixchel Temple
Very near Garrafon Park at the very southern tip, called the Cliff of the Dawn, is the most eastern part of Mexico. On December 31st, the locals gather at this point to be the first ones to receive the rays of the sun for the New Year as it is ushered in the next
morning.

Also located here is the Ixchel Temple and the Sculpture Garden. Near the Sculpture Garden, there is a boutique, a small restaurant, an ice cream shop, and a lighthouse.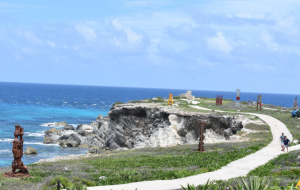 You have to pay to go through the Sculpture Garden, which is made up of large metal art forms from famous artists all over the world to make your way to the Ixchel Temple. Just down from the temple are steps and a path that will bring you to a world class view, where the deep blue swirling waters crash constantly over several large exposed rocks and up and onto a sandy beach. It's an awesome sight. Be sure to bring your camera or smartphone as you may want to replay this at home.

There is also a restaurant, as well as a few boutique shops. You can sit out away from the main restaurant near the high cliffs overlooking the water in a covered Palapa. Waiters will bring you a menu and drinks.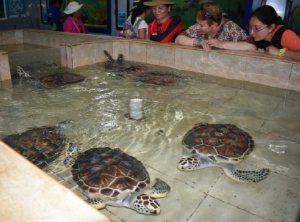 Turtle Farm
The turtle farm is a conservatory whose main mission is to save turtle eggs found on Isla Mujeres and raise them to they are able to fend for themselves. They educated the public and allows them a place to see turtles at their various stages of life, albeit in an open air aquarium type environment.

Children love the place as they can feed the turtles and step up
and touch the turtles. As the turtles grow bigger, they bring them to some outside tanks and when they reach a certain age; they release them back into the ocean.
The cost to enter is around $2.00 U.S. which helps keep the operation working. If you would like to feed the turtles, they will sell you some food for a little over $1.00 U.S.

Fish, Snorkel & Dive
Snorkeling is one of the things that make Isla Mujeres click. Most tourist's option to take a snorkeling tour out of Cancun where everything is provided including transportation, snorkeling guide, lunch, and time on the beach.
You can also rent a fishing boat, large or small, from Isla Mujeres. During the summer

Cliff of the Dawn is the eastern most part of Mexico.
Zip lining over the Caribbean Sea is one of the main attractions at Garrafon Park.
months, the whale shark tours are offered.

Other snorkeling vessels are typically a catamaran, holding up to fifty or more people. They will sail to Isla while the music plays and the beer and mixed drinks flow, and you will be dropped off with a guide at the Manchones Reef where you can snorkel with a slight current. They pick you up about forty-five minutes later down current so you never have to swim against the current.

From here, they will make their way to North Beach for lunch, more drinks, and time enough to either shop downtown Isla or to lie on the beach and make use of their facilities. Then, it's back to Cancun with sails and possibly a spinnaker getting you home quicker. Check with the various sailing companies and see which one fits your needs.

For those who dive, you can choose from a one or two tank dive, an afternoon/night combo dive, and you can choose from a gunboat shipwreck to a reef dive. These are located in sixty to eighty-five feet of water. For the beginner, Manchones Reef is a great option with thirty feet of water. You may also want to visit MUSA, the underwater museum with over 500 life size figures.

You can purchase these diving trips before you leave Cancun or you can wait until you get to Isla Mujeres. There are a quite a few dive shops on Isla Mujeres, all offering rental equipment, boat, and diving guide. Most dive companies also offer a resort course (learn and dive the same day). We cannot recommend any company in particular, but there are quite a few online.

Isla Brewing Company
Isla Brewing company has been around for two years and offers several different types of handcrafted beer. The brewery which is small now offers tours and you can buy a small flight of their beers at Ehir brewery.
Some of the handcrafted beers you can buy are the Claro Que Se, a Rubia Ale; Jamaica mi Loco, a Jamaica and Miel ale; Playa Norte, an American Pale Ale; La Mordida, an IPA; Mucho Macho, an Imperial IPA; and Tesoro Pirata, a dark beer with rum and vanilla and hints of chocolate.

The beer is sold on the Island at different bars but if you want to sample or purchase some individually, you can do so at the brewery. Found in the middle of a residential block, It's not the easiest of places to find. It's very near to the Guadalupe Chapel. You can go on their website www.islabrewing.com for a map and contact information.

North Beach
Enough cannot be said about North Beach. It is a beautiful white sand beach. It has been rated as one of the top beaches of the world. Most of the people swim on the western edge of North beach facing Cancun where water will get deep as you go a little ways out.
On the northern part of the beach, the water is shallow at least twenty yards out. It used to go out a hundred yards but beach erosion has cut the beach back from what it used to be.
When it does get deep, it drops off quickly and the current can be brisk. You should not venture out pas the shallow part unless you are a good competent swimmer as you may have to swim along with the current to get back to shore.

North Beach is very popular. There are inexpensive massage tents, lounge chairs and umbrellas for rent, and waiters available to order drinks. There are restaurants across the street. Visit the brewery and taste all of their beer.

you won't have to lug gifts that you purchased all over the island. You can time your departure and shop until you have to board on whichever boat you decide to leave on.

There are plenty of restaurants, bars and places to sit and enjoy drinks and snacks, including the ferry dock, for those who don't want to shop. The downtown area is not very big and it would be hard to get lost. Most streets are cobblestone and geared for pedestrian traffic only, but be careful as the golf carts and scooters can zoom by at any moment, especially in the late afternoon.

On Isla, much like the flea markets of Cancun, bargaining is the way of life. If you show interest in an item and begin to walk away, surely you will get a better price.

You can always go down the block, probably find the same item, and even possibly obtain a better price. Practically every tourist item that you find in Cancun is also sold here and you should be able to get a better price.

Places to eat
There are numerous restaurants to choose from in Isla Mujeres, some are seaside and allow you to use their beaches, others are inside hotels and still others off the beaten path. We would recommend you to use trip advisers and pay especially attention to Recent Reviews (some reviews are too old as chefs and food quality changes).

It used to be in the old days, you would rent a golf cart or motorcycle and would go to a small place on the beach and request a large fish to be barbecued, complete with sides and drinks. You would return in the afternoon and all would be ready, and for a relatively cheap price.

Now, Playa Lancheros, Playa Tiburon (there are two penned up nurse sharks you can take a selfie with), and one or two places on North Beach barbecue large groupers and red snappers for the masses every day. There are several tables set up where your entire group can feast when it's ready with several buffet style side dishes. If you are just one or two, you can still purchase a single serving of fish and side dishes.

Playa Lancheros has a nice beach where if you want to arrive early or after your meal, you can spend a little
Several different areas with umbrellas and chairs that you can rent near the water and large mattresses with canopies a little more inland on the sand. You'll be given a flag where you can put it up when you are in need of some food or drink.

There are several open air massage canopies where you can get an hour long massage for a very reasonable price. You can also find bars and food on the beach.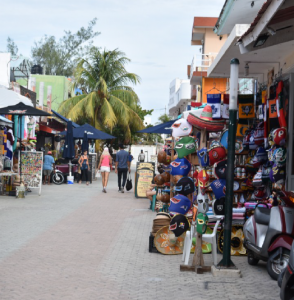 Downtown Isla Mujeres
North Beach is very close to downtown and we recommend that you save shopping for last. Mainly, it will be in the cooler part of the day and
Downtown Isla shopping has changed over the past few decades.
Los Rancheros is a favorite barbecue fish where tour boats and tourists on the island stop in for lunch on a regular basis.

If you are looking for a five star restaurant, overlooking the sea, head down to Zoetry Rolandi. The casual dining, white linen tablecloth setting, is open for both lunch and dinner. The seafood is fresh and the service and preparation are outstanding but it is a little on the expensive side.

In the past when it was just Rolandi's, there was a package deal to pick you and your group up from your hotel, provide a boat for you to eat dinner, and bring you back.

Now, the cost is $200 for six people for the private transportation from Cancun. You can call Zoetry Rolandi to set it up or if you want to take a taxi from the ferry dock, the cost of a taxi will be around $10 to $15 each way.

Mia Reef Isla Mujeres
Mia Reef is on its own tiny island and has its own private beach not far from North beach. There is a bridge you have to cross to get to the hotel. It does cater to children and families with a kid's club and daily daytime activities just for the kids.

The hotel has 93 beachfront guest rooms and 63 suites which overlook the Caribbean Sea. You can either choose the midrise tower or in one of the Spanish style villas that are out over a rocky coastline.

There are private condos and homes and AirBnB accommodations that are available for rent. Check out the internet to see if any might fulfill your needs.
So if you have an extra two or three days before or after your week at one of The Royal Resorts, try and schedule a trip to Isla Mujeres. Two to three days should be enough to explore the entire island.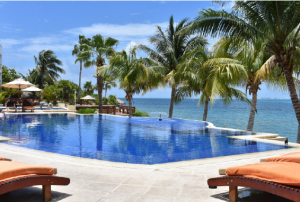 Places to Stay
Zoetry Villa Rolandi
This is truly a Five Star hotel but it is quite expensive. All of their thirty-five suites (junior and Presidential suites) overlook the ocean with a large balcony. Each has a Jacuzzi, an adjacent living area with a sofa set.

You can buy a $140 per person day pass which is an all-inclusive from 9:00 am until 5:00 pm. It only includes breakfast and lunch, not dinner. For an extra $20 per person, the all-inclusive price will include dinner. When you call Zoetry Villa Rolandi to make your reservations which we highly recommend, check to be sure these prices are still in effect.

Isla Mujeres
Palace Hotel
This sixty-two room hotel is a couples only, all-inclusive resort. All rooms have a king bed and a two person Jacuzzi. This is part of the Palace Resort group that owns eight other Palace Resorts in Cancun and along The Riviera Maya, including the Moon Palace near the airport.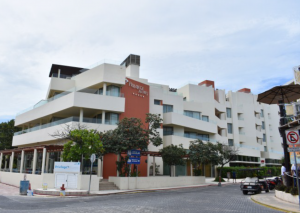 Privilege Aluxes
This all-inclusive hotel is on North Beach and very near to downtown Isla Mujeres where there is shopping, restaurants and entertainment. Rooms can sleep two or three persons. It's at the very north end of the island and not far from the ferry landing.
You can eat over the water at the south end of the island adjacent to "The Cliff of the Dawn."